Special Event Security in New York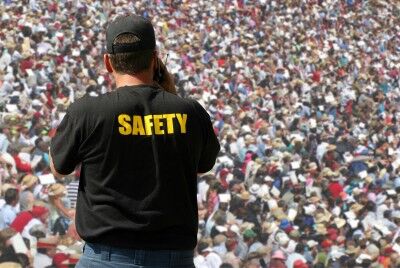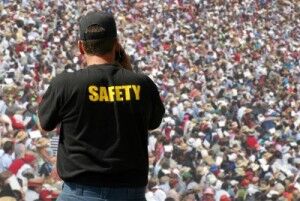 At Sentinel, we realize the importance of getting it right the first time, especially when it comes to Show Security Services. Our staff is experienced and committed to making your event run safely and without interruption or delay. We use the finest officers available and take great pride in our Special Events Security team. If your company is hosting a special event, you're probably overwhelmed with planning. Venue, location, food and beverage vendors, and entertainment are just a few of the biggest pieces to organize, not to mention minutiae like staffing and scheduling. Whatever your event is slated to look like, make sure you don't leave out one of the most crucial parts of a successful event: security.
Special Event Security in New York: Tailored to Fit Your Needs
At Sentinel MGI, our event security provides a strong sense of authority and order, making sure that your staff and guests feel safe and know there is always someone trustworthy nearby to turn to in case of danger or emergency. Our guards are trained and able to cover any area or position in need of a watchful eye, particularly entrances, bars, or anywhere identification is required for guests. Hiring security detail to handle ID check and guest list management will ensure that anyone who shouldn't get through, won't.
Though the doors and food or beverage stations are generally very crowded areas that benefit greatly from high vigilance, our New York event security does more than just stand guard at the entrance. Our guards are highly trained to manage large crowds as well as spot and swiftly handle any potential conflict or danger arising among event attendees or staff. According to the needs of the event as well as the company's preferences, we establish a perimeter and patrol it in a discreet manner so that your guests don't feel threatened by overbearing security presence. We know that the primary purpose of your event is to provide attendees with a positive experience, and we will work with you every step of the way to make sure that purpose is fulfilled while everyone on site is kept safe.
New York Event Security: What are the Benefits?
– Increased sense of safety and comfort for attendees and staff.
Pulling off a perfect event is almost impossible, and one or two hitches are to be expected; however, when it comes to the physical safety of everyone at the event site, no mistakes are acceptable. Sentinel MGI special event security will keep a close watch over guest behavior and activity to make sure any potentially dangerous person is apprehended and removed immediately, all while the event continues on successfully as planned.
– Ease of venue selection.
Depending on the size of your event and your venue needs, you may face some difficulty locking down a venue without a security team already hired. Most venues don't include their own event security, and many venues require security to be present at the event as a prerequisite to venue rental. If you already have your New York special event security detail booked and ready, you will find yourself with a much wider selection of event venues to choose from and won't have to settle for anything less than the perfect location.
– Assurance in the face of disaster or emergency situations.
No matter how tightly your event has been organized, unprecedented situations could always throw a wrench in the plans. Unexpected weather changes, natural disasters, and shows of excessive violence can change the trajectory of the event in the blink of an eye. Our high-quality event security team is always ready for the worst-case scenario and will do everything in our power to maneuver everyone on site to safety as well as take down the aggressor, should that be the case.
– A more trustworthy image.
Potential attendees of an event like to know that they'll be safe there. This is particularly important at especially large events as well as events that minors can attend, such as concerts or movie premieres. If you include information about event security in your advertisements, consumers will appreciate the fact that you have their safety in mind and will be more likely to buy tickets or passes. Additionally, with our high-level New York event security, you will avoid liability issues from potential injuries or other unsafe situations.
Security for Private Events in New York
We believe your private events need to be special, and the last thing you want is to have something go wrong. Leave nothing to chance – go with a professional event security company, Sentinel. Check out our full list of special event services below:
Corporate Dinners, Events & Holiday Parties
Celebrity Fundraisers
Jewelry Shows
Expo, Show & Trade Show Security
Movie & Production Sets
World Premiers
Sporting Events & Sports Team Private Security
Private Parties and Functions Security
Product Launches Security
Fashion Show Security
Art Gallery Security
PR Event Security
Concert Security
VIP Celebrity Private Bodyguard (Close Protection Security)
New York Professional Event Security: Just What You Need for a Safe Event
At Sentinel MGI, we firmly believe that event safety shouldn't be a retroactive addition and should be built into the foundation of an event's organization. As soon as you bring us onto your team, we will provide our expert advice on how to set up your event for maximum ease when it comes to maintaining order and keeping attendees and staff safe.
Contact your Special Event Security Specialist at 718-740-3600 today to set up a consultation.