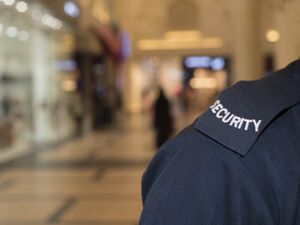 Sentinel works with a broad range and diverse group of retailers to provide safety to their staff and to secure their assets. Our security agents, both armed and unarmed, are trained in customer service, specifically for high-end luxury boutiques. We realize that while our primary responsibility is security, it is equally important to recognize that we are often the first impression that customers see; appearances and service matter. Our agents are perfect for the high-end retail sector; agents are outfitted in the highest quality suits and uniforms in the security industry. When it comes to uniforms and equipment, the expense is never an issue with Sentinel, achieving "the look" that our client's desire is always our priority. Our security agents are highly professional, clean-cut and trained and we can customize a security program unique and specific to each of our client's needs.
Your Trusted Partner for Retail Security
Retail stores, particularly those in the luxury retail sector, are exposed to many risks to their customers, staff, records, merchandise, money, equipment, and data. A retail store security agent provides a security presence in your retail business to secure your property, ensure the safety of your customers and employees, and provide immediate response during incidents and emergencies.
Retail Security Agent Services
Sentinel provides clients with professional uniformed or plain clothed security experts to monitor their retail stores. Some of the roles our security agents can fulfill include:
Deter theft: By their mere presence, a security agent can deter customers and employees from attempting theft.
Investigate shoplifting: Security agents, working alone or with undercover store detectives, can identify shoplifters and detain them until law enforcement arrives.
Patrol premises: A retail security guard can patrol your store and parking lot to eliminate potential problems.
Our Retail Security Agents
Our guards have training and experience in both hospitality and security so they can provide high quality security without disrupting your business or your customers' shopping experience. Our security agents are well-versed in providing luxury retail security agent services and undergo the highest levels of recruiting and training available. Moreover, our staff is skilled at operational management and service delivery so you will always receive the services you need, when you need them.
We work with you to determine your security needs and provide agents to meet your requirements. Our security agents can be uniformed or dressed in high-quality business attire and will be equipped with the latest communications gear. All of our agents are clean-cut and will project a professional image to your customers and staff. As a result, everyone will know that you take security seriously — your customers and employees will feel safe and any would-be threats will be deterred.
Advantages of an In-store Retail Store Security Agent
Surveillance and alarm systems are essential to a security plan. However, no system can replace a live security guard for luxury retail security agent services. Some of the services that can only be provided by a security agent include:
Identifying suspicious people and activities: A trained security agent can focus attention on employees and customers who might escape detection in high-traffic locations during busy times.
Monitoring surveillance equipment: Surveillance equipment is a powerful tool in the hands of a trained security agent who knows how to use it effectively to capture evidence of illegal activity.
Respond to theft: Live security guards can stop shoplifters as they leave your retail shop to prevent losses and ensure perpetrators are held responsible.
Provide emergency assistance: A security agent can assist customers and staff during natural or manmade disasters, civil unrest, robbery, or active shooter incident.
Maintain order: During busy times, a retail store agent can assist with crowd control and information delivery. For example, security guards can keep shoppers, employees, and merchandise safe during Black Friday sales.
Communicate with law enforcement: An experienced security agent can collect evidence during investigations of embezzlement, theft, vandalism, or shoplifting and provide that evidence to law enforcement in a focused way.
Additional Retail Security Agent Services
In addition to day-to-day retail security, Sentinel provides specialized retail security services for specific situations, including:
Product Launches-

When you release your newest products, you might require special security setups or additional security services. Our New York luxury retail security agent services include crowd control to secure your property from damage and your merchandise from theft during product launch events.
Product Transport- Products in transit can be vulnerable to theft or industrial espionage. Sentinel can provide security agents to guard products during transport.
Overnight security- Security during off-hours is not just about deterring theft. Fires, natural disasters, and vandalism can happen when your retail store is empty.

Emergency response-

Emergencies, like disasters and civil unrest, can prompt looting and vandalism. Our New York luxury retail security agent services can guard your merchandise and property during emergencies.

Inventory audits

– When your retail store needs inventory and inventory systems checked, we can provide security to ensure that the counts are accurate.

Plainclothes undercover agents

– Undercover agents can monitor shoppers in an unobtrusive way.

Undercover employees

– Whether you are concerned with embezzlement, theft of merchandise, supplies, or cash, or other insider crimes, undercover employees can help to identify and deter employee theft.
Mystery shopping- Many retail establishments are unaware of their security needs or performance. Mystery shopping entails sending an undercover security agent into the retail store to test the location's retail plan and performance. Mystery shopping can identify significant security lapses that may cost your business thousands, or even millions, of dollars.
Temporary coverage- During special events, such as sales, product rollouts, or celebrity appearances at your retail store, Sentinel can provide security agents to temporarily replace or supplement your normal security measures.
Holiday coverage- Holidays create an increase in traffic and an increase in loss risk. We can work with you to provide additional security guards during your busiest times to secure your merchandise and staff.
Customized Retail Security Services
We work with our clients to tailor our security services to the needs of their retail stores.
Contact us to discuss your retail security needs and what we can do to help you secure the safety of your customers, property, and merchandise.