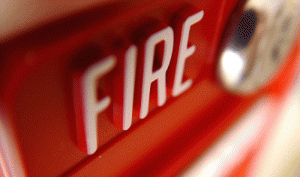 Our Fire Safety Directors and Fire Guards are experienced, professional and highly-trained officers. Also, all of our officers are certified and licensed security officers. We understand the importance of fire safety and security and strive to make our client's buildings, properties and assets safe, safe and secure on all fronts and from all possible threats. We can assist you with your emergency action plan.
Fire Watch & Emergency Action Planning
Ask any firefighter, and they'll tell you the best tool for fighting fires is prevention. At Sentinel MGI, we offer a range of services that will keep your property and assets safe from harm. We've been serving New York City and Nassau county since 2003, so if you need a New York Fire Guard or Nassau Certified Fire Watch, look no further than Sentinel MGI.
What Is a Fire Watch?
First and foremost, a Fire Watch is responsible for keeping businesses and residences safe from fire. There are a number of reasons why you may need to set up a New York Fire Guard, including:
Inoperative or malfunctioning alarm system

Power loss

Water supply shutdown

Malfunctioning sprinkler system

Presence of toxic and/or flammable materials
In each of these cases, the law requires that you have a Fire Guard present. Our New York Fire Watch will provide you with 24-hour Fire Watch services to ensure that you avoid fines or have your business shut down by the fire marshal.
What Do Fire Watch Guards Do?
For our New York and Nassau Fire Watch customers, we perform the following tasks:
Continual monitoring of your facility or building

Regular patrols of your premises

Scouring your site for potential fire hazards

Examining your anti-fire equipment, including fire alarms and sprinkler systems, to ensure they're in working order

Maintaining accurate logs and other records during each patrol

Serving as a point of contact with fire departments

Contacting the fire department if a fire breaks out
We will work with you to establish parameters for each of these functions so you're getting the services you need while we ensure the safety of your buildings.
Our Fire Safety Directors and New York Licensed Fire Guards are ideal for:
Hotels Security & Fire Safety
Hi-Rise Building Security & Fire Safety
Office Building Security & Fire Safety
Construction Sites
Fire Watch Services
Special Events
Cargo Security & Warehouses
Disaster, Crisis, and Emergency Response
Sporting Event Security & Fire Safety
Fire Safety Consulting and Training
Our fire safety experts and training staff are exclusively chosen from the executive leadership of the New York City Fire Department. We are the proven field generals of the FDNY. Fire safety is not what we do, it is our passion and it defines us as who we are. Our training seminars and fire safety drills are the model for all to follow; we provide in-depth information, training and analysis. While the scope of training is comprehensive, informative and second to none, for us, it is not only about covering information. Our goal is to save lives through our training. We are expert motivational trainers and we put forth our information and material in such a way that our clients will never forget – we usually get a standing ovation at the end of our presentation!
Emergency Action Planning and Training
In addition to Fire Watch, Sentinel MGI offers a range of services aimed at helping you prepare emergency plans and training your employees and residents to implement them safely. Our training staff is pulled exclusively from the New York City Fire Department, so you can rest assured that you're getting advice from the best firefighters in the world.
Our services include:
Fire Safety Plan Design

– All employers are required to provide a plan for preventing fires in the workplace. We can help you set up your fire prevention plan, including identifying hazards, installing fire suppression measures, and establishing employee responsibilities.

Emergency Action Plan Design –

Knowing how to evacuate your building safely and quickly is a crucial responsibility for any building owner—and it's the law. We'll work with you to establish safe egress for everyone in your building.

Fire Drills

– A plan is just a plan without execution. Practicing what to do in case of a fire is an important part of fire safety, and we'll help implement and evaluate fire drills for your building.

Evacuation Drills

– Just like with fire drills, practice is important. Sentinel MGI can help you run evacuation drills, so the first time you use it won't be when disaster strikes.

Fire Safety Seminars

– We offer several seminars on fire safety, which we present across New York City and Nassau county. We provide comprehensive information on a range of topics, including fire safety and hot work, such as welding and grinding operations.

Building Inspection –

Regular inspections are required by city law. Contact us, and we'll set up an inspection schedule, which will help identify and potential hazards and keep your building legal.

Fire Code Compliance

– During our regular inspections, we may identify areas that don't meet fire code, either because of neglect or because the codes themselves have changed. We'll help you figure out how to bring those items back up to code.

Violation Correction

– When the fire marshal comes through your building, there's a good chance he'll find at least a minor violation. We can help you correct those violations, whether they're minor or significant.
Why Choose Sentinel MGI?
Sentinel MGI is committed to providing the best service possible to those searching for a New York or Nassau Certified Fire Watch. There are several reasons to choose us, including:
Speed

– We're ready to dispatch our guards at a moment's notice to anywhere in New York City or Nassau county. Our Fire Guards will be there on time, ready to protect your building.

Accuracy –

Our Fire Guards maintain meticulous records, which keeps them in compliance with fire marshals. We also monitor the area as required by city and state law.

Prepared –

Sentinel MGI guarantees that your Fire Guards will bring the proper equipment and be ready to go the moment they arrive.

Training –

Each Fire Guard receives training in identifying potential risks, as well as working with emergency services and 911 operators.
Contact us today to ask about a New York or Nassau Fire Watch and how Sentinel MGI can help you keep your investments safe. Fire safety isn't just our business, it's our passion, and we're committed to saving lives.
Contact your Fire Safety Management Firm today or call (718) 740-3600.